The solstice in the Golden garden 2022
At the CEE Dropie the solstice will be celebrated on Saturday, June 11, 2022, from 10 a.m. to 6 p.m.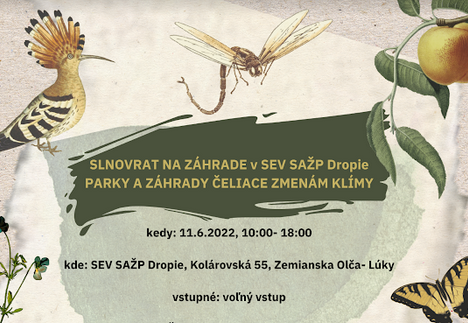 Visitors can wander around the Golden Garden and discover its hidden islands of life. (Guided group tour from 11 a.m., led by Katka Vajlik and Lilla Szabó). For the first time, the search for the treasures of the Golden Garden will be available via mobile app.
The exhibitions "Forgotten Beauty" and "Old Rye Island" will be accessible in our new building. The "Forgotten Beauty" exhibition presents works of József Jacsmenyík, a painter, graphic artist and restorer from Fiľakovo, and metal works of Gábor Čech, a sculptor from Číčov. The "Old Rye Island" photo exhibition has been complemented by an interesting narration by Márta Őszi about the history of a well-known net factory in Kolárovo.
We are looking forward to meet all our guests!
For more information about our Solstice events visit our Ewobox website.


SEV SAŽP Dropie
Kolárovská 55, 946 14 Zemianska Olča
e-mail: sev-dropie@sazp.sk
tel: +421 35 7896055